Dream Lucky: When FDR Was in the White House, Count Basie Was on the Radio, and Everyone Wore A Hat... By: Roxane Orgill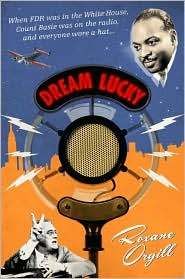 Product Details:
ISBN-13: 9780060897505
Format: Hardcover, 256pp or Ebook
Publisher: HarperCollins Publishers
Pub. Date: April 2008
Author's site: Roxane Orgill
From the Publisher:

The time: 1936-1938. The mood: Hopeful. It wasn't wartime, not yet. The music: The incomparable Count Basie and Benny Goodman, among others. The setting: Living rooms across America and, most of all, New York City.

Dream Lucky covers politics, race, religion, arts, and sports, but the central focus is the period's soundtrack—specifically big band jazz—and the big-hearted piano player William "Count" Basie. His ascent is the narrative thread of the book—how he made it and what made his music different from the rest. But many other stories weave in and out: Amelia Earhart pursues her dream of flying "around the world at its waistline." Adam Clayton Powell, Jr., stages a boycott on 125th Street. And Mae West shocks radio listeners as a naked Eve tempting the snake.
Critic Nat Hentoff praises the "precise originality" with which Roxane Orgill writes about music. In Dream Lucky, she magically lets readers hear the past.
THIS BOOK IS NOT ONE OF MY FAVORITES, IT'S HARD TO FOLLOW AND POORLY WRITTEN. (See Review Below) FOR THIS REASON, I GIVE IT 2.5 TIARAS!
My Thoughts and Review:
Remember when "Swing was King"? No? Neither did I! The era was quite a bit before my time. Over fifty years before. But like any good book that tells a tale of our past, I was eager to read and learn! While "Dream Lucky" has a catchy popular fiction-type title, it's far from it! Dream Lucky is a book that tells about the people and events between 1936 and 1938.

As I opened this book and began to read, I was ready to go back, way back in time. And before I knew it, just like pushing a button on a time machine, I was there! Starting off with the beginnings of William Basie, the big band leader from Kansas. He's in a dive and is hardly known the journey follows him through time where he's finally in Manhattan on 52nd Street and now known as Count Basie, with his grand orchestra. The book is told mostly through his perspective. The prose will make you swing and sway to the music of the times, and you can almost hear Billy Holiday and Ella Fitzgerald. Roxanne Orgill's descriptive writing technique takes us on a colorful journey that teaches us all about pre-World War II America. An era gone-by. A time when African Americans were trying to forge ahead, be seen and heard, and most importantly respected. A time now forgotten, when blacks wouldn't be helped, hired or served because of the color of their skin.

You'll remember a time before television, where your grandparents would huddle around the radio to hear popular radio shows like Burns and Allen, Charlie McCarthy and Jack Benny. You peer into the White House where President FDR and Eleanor were dealing with the times and troubles in their own way. But most of all, this book is about the music, the music of the time that consisted of Count Basie, Chick Webb, Benny Goodman, and Duke Ellington.

I did find one major fault in this book. As much as I wanted to love this delightful story, it was hard to read. Not in the manner of say an over-extended vocabulary. (That's not a problem for me, but would definitely stop me from making it a "recommended book" to some) but it seems like a bunch of notes that are held together by only a string of words. Each block of notes tells a tale, but it's almost as if the author researched this, took notes and copied them down not relating it directly to any specific part of the story and without order. It's clear that Roxanne Orgill did research the subjects, but there is no proof, links to works or references of such. In short, it's written like a high school report. Because of this aspect, I didn't fully enjoy the work as much as I could have.

Dream Lucky reads like a dry history book, and the black and white photos reminded me of just that. And while the prose, descriptive and thought provoking, the story itself is just poorly written. Instead of turning pages, I had to keep flipping back like I was studying for a history quiz. Many paragraphs are quoted extensively, but there are no notes to let you know where these quotes came from and they do not tie in well with what the author is trying to convey. I see her vision, it's just made very cloudy.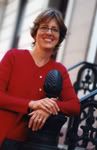 About the Author ~ Biography
Roxane Orgill is the author of a number of notable books for children and young adults, including the recent Footwork: The Story of Fred and Adele Astaire. She has also been an award-winning music critic whose reviews and articles have appeared in the Wall Street Journal, the New York Times, and Billboard. She lives in Hoboken, New Jersey.

****NOTE: This book is an advanced reader copy (Uncorrected Proof) Trade Paperback Edition that was sent to me from HaperCollins. If you are interested in reading and reviewing this book, please leave me a message in the comments section, or email me directly at IAmHiMaintenance@aol.com. The give-a-way will end on Saturday night at midnight Eastern Standard Time. Winners of this weeks books will be on Sunday of this week, which is the 27th of April. Good Luck! And if you have any question, please feel free to contact me!.
That's All For Now!
XXX ~ KISSES

THE PRINCESS