So, I've been meeting a LOT of new people and been on SO many new blogs lately that it's hard for me to keep count! I LOVE my book bloggers and can't wait to show them a little appreciation.
OK...here's the deal so far. And this is just a sneak peek...the post will go up before the end of the weekend with ALL the details. Park-Avenue Princess would like to have some more "FOLLOWERS" following publicly on her BLOG and on TWITTER...both buttons are on the side along with a "subscribe" button for email! If you do all three you will get more entries to this contest and if you pass along the word by blogging or tweeting that is going to be two more entries (Plus THREE for each blog post and tweet) also, if someone new comes in and says that YOU sent them that is going to be a (Plus as well) I'm going to add this up for you and make it easier. The winner will be posted on the last Friday of the month. Which is the last day in July!
So, basically, all you have to do is follow...
What do you win?? That's going to be determined by the number of "followers" that I get. And the winner will be drawn randomly (But your name can be put in countless times). This may be a little confusing right now, but I will make it MUCH easier (PROMISE)in my next post about this....
The winner will get a
bracelet
like the one pictured below made out of genuine vintage typewriter keys. I own two of these and I've bought one as a gift as well. They are gorgeous and very well made!
Lizzy Bleu
is a very talented girl! You'll love her
etsy shop
! Actually, I think I am going to do something with
Lizzy Bleu
like this monthly as well she has an absolutely adorable
etsy shop
! If you get a free moment you should check it out...very cool! Anyway, these bracelets and things usually cost about $35.00) Now, if I reach 200 followers, I will also add a gift certificate from your favorite book store to buy what you'd like...I don't know how much that certificate will be yet, but I'll let you know. The amount will go up as I get followers...(every 50 after that) so at 250 the certificate goes up and then at 300 the certificate goes up and then 350 followers (I'm sure you get the point) I'm thinking it could go up to as much as a One Hundred Dollar Gift Certificate (that I will purchase myself...depending on the followers) But, I have to start it off lower...make sense? (God, I hope so...lol) and that is PLUS Lizzy Bleu's Bracelet and then a special gift from her shop for the winner as well if a LARGE number of followers is reached. I am even thinking about having a runner-up unless YOU all think there should be just ONE winner that takes ALL!
Here's a sample of the
bracelet
: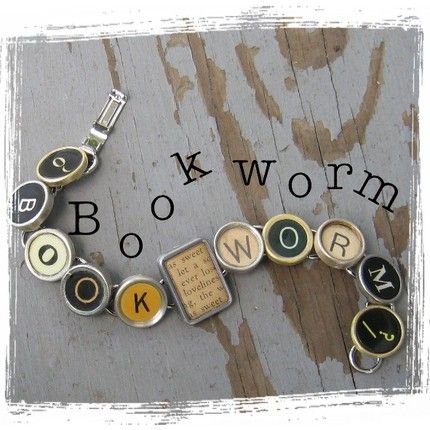 I'm looking for your voice in this one ladies and gentlemen (Speaking of the guys...you don't have to take a
bracelet
...she has very cute cuff links as well...or whatever else may catch your eye)!
So let me know what you think! OH and if you are already a follower and you comment on the post where I tell you too...you get PLUS 10 just for already being here! OK? So, if you get in BEFORE the post that's PLUS 10...(so, what are you waiting for??)
***ONE LAST THING...I NEED SOMEONES HELP WITH A "STICKY POST" ? How do I do it? I need to keep the contest on top until the end of the month once it's fully decided and posted! (And we all know I am SO NOT COMPUTER SAVVY! : )
That's all for now! Happy Reading!!
KISSES ~ XXX
THE PRINCESS