Hi Everyone!
I've been getting A LOT of emails about the contest/giveaway and I'll try to answer a few of the most asked here and update a few things!
1. If you follow before the day that I actually put up the post with the list of prizes and how it is EXACTLY going to go that is a PLUS TEN for following before hand on the BLOG and a PLUS FIVE if you already follow on Twitter.
2. After the contest is posted, if you BLOG about it (that's a PLUS THREE) if you tweet about it (PLUS TWO) (I'm trying to decide if multiple tweets will count as a plus two each time or not still...only because of the amount of work. UNLESS, you keep track of your tweets by posting. That could work because I need a link obviously!
3. Who is it open to? Anyone! Yes, world-wide! So, let's have fun with this! It's about FRIENDS (OLD and NEW) and following and finding NEW Blogs!
4. Prizes ... My favorite! The winner is going to get a Bracelet done by
LIZZY BLEU
at her Etsy Shop. You can have it made like the one below or anyway you'd like (maybe, your name?) Like one of mine that I will picture below as well! Now...after we get 100 followers, for every FIFTY, I will add something...I'm thinking a gift-certificate to you favorite book store (or Amazon) and you may buy what you'd like! I'm also talking with
Lizzy Bleu
to see if she will also add an extra gift certificate to her shop for maybe $25, $50, or up to $100.00 depending on the amount of followers. Because I am doing the buying amount myself (except for the bracelet that
LIZZY BLEU
is making and donating which is a OOAK and VERY UNIQUE and ORIGINAL!) Sound good? So the more you spread the word and the more followers I get, the more prizes that are added on until the end of the month! I will make a sticky post soon with all the details and that is where you can start by making your initial post which is your first PLUS ONE.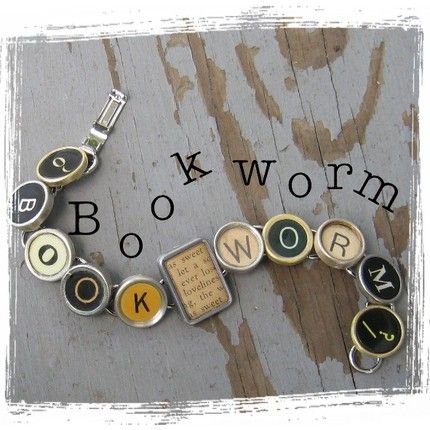 5. If your name is in someone's post as the referral point, then that is also a PLUS for you!
I will keep putting updates here...if you're confused (and that's most-likely MY fault, no joke...lol OK, it's funny) than you can find your answers here. Just post the question or email me at IAmHiMaintenance(at)aol(dot)com!
Have fun! That's it for now!
KISSES ~ XXX
THE PRINCESS
THIS IS GOING TO TAKE ME A WHILE TO ADD UP EVERYONE'S PLUS POINTS WHEN THIS STARTS! SO, IF YOU KEEP TRACK AS WELL, AND KEEP IT IN YOUR POSTS, IT MAY BE EASIEST. BUT, THAT'S UP TO YOU!
Oh and don't forget to check out
LIZZY BLEU'S Typewriter Jewelry
and she's even going to make us a special BOOK MARK! : ) Lizzy Bleu...I love you!