Fatal Encryption
by: Debora
Purdy Kong
Publisher: Gypsy Moon Press; 1st edition
Release Date: (April 15, 2008)
Language: English
Pages: 370

Available from amazon.com, amazon.ca, and http://www.deadwrite.com/

My Rating: 4 Tiaras!



Synopsis:
Dressed as Kermit the Frog on Halloween night, an unemployed Alex Bellamy wonders where his life went wrong. It could be worse. A few miles away, Zachary Ternoway is stabbed at his front door. In need of cash, Alex agrees to help catch a computer prankster at McKinleys' Department Store. But things turn serious when someone vows to permanently encrypt the store's data and torch the building unless ten million dollars is handed over in two weeks. Alex knows there's a connection between the murder and the extortion threat, yet time's running out. People are questioning his competency, and a killer's threatening his life.
Starred Review by Cheryl K. Tardif
(taken from web site)
FATAL ENCRYPTION is a corporate caper with plenty of twists and turns, and an assortment of appealing characters to keep you guessing. Debra Purdy Kong's newest novel offers a well-plotted mystery reminiscent of the classic whodunits. A great beach read! --Cheryl Kaye Tardif, bestselling author ...
I'd like to thank Debra Purdy Kong for taking time out of her busy day to stop by and tell us a little bit about her newest book "Fatal Encryption"! (Which I loved by the way) It's a modern day thriller told like the old detective type mysteries that all of us enjoyed so much! I guess you'd call one of those a "Whodunit?" Right?
Anyway, Welcome Debra! Tell us a little bit about "Fatal Encryption"
Fatal Encryption is the second mystery featuring the trials and tribulations of twenty-eight-year old Alex Bellamy. In the first book, Taxed to Death, Alex is full of enthusiasm, optimism, and a bit of silliness, until his friend and co-worker, Andy, is murdered.
After I finished that book, I knew right away that I had more to say about Alex's story, but I didn't know what the plot would be about. My background in criminology and my job as a secretary in a firm of accountants had inspired an interest in white-collar crime, which was how Taxed to Death came to be. It was my grandfather, however, (also a retired accountant) who said to me, "Why don't you write something about computers?" Bingo.
Ideas started to flow and I began the research. Out of this, Fatal Encryption was eventually born, but only after many drafts and several years, not to mention the help of my critique group and an editor. My grandfather passed away before the book was published, but I think he would have liked it.
Thank you SO much for being here Debra, it's always nice to get a little big about the book and where the ideas cam from. Please feel free to stop by anytime!!
About the Author -
(Taken from the author's website)
Debra Purdy Kong:

Years ago, when I was a criminology student, I spent many hours writing about criminal behaviour for term papers. By the time I received my diploma, I realized I'd rather write crime fiction than work for the Criminal Justice System, a decision I've never regretted.

While I learned the craft of writing, I worked as a secretary for accountants, professors, lawyers, and a host of other interesting people and businesses. Many experiences from those years worked their way into TAXED TO DEATH, my first mystery novel.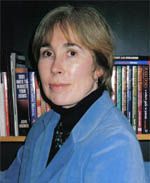 When I left full time employment to raise my children, I used pockets of free time to develop short fiction while I kept working on novels. Needless to say, a number of my parenting experiences found their way into stories, essays, and anecdotes. When my children were older, I worked in retail for five years, but am currently devoting more time to fiction and writing reviews. Most of my reviews can be found at
www.amazon.ca
.

Some of the results include TAXED TO DEATH, featuring Revenue Canada Agency auditor, Alex Bellamy, and FATAL ENCRYPTION, which picks up eighteen months after Alex has been fired from RCA and is still between temp jobs.
My other series featuring public transit security cop Casey Brisseden, begins with DEADLY RESURRECTION, a tale of family deceit and present ramifications.
Would you like to win your very own AUTOGRAPHED Copy
Of "Fatal Encryption" courtesy of Debra Purdy Kong?
Here are the Rules:
This contest is open to EVERYONE! So all of my INTERNATIONAL FRIENDS feel free to join in the fun!
I have the shipping so it's MY decision this time!
You MUST have a Street Address (Sorry No P.O. Boxes at this time Please)
How do you Win?
First, this giveaway is open to my readers and followers of my blog! So, IF you haven't
done so, go over and *click* the follow button! That way you'll get ALL of my updates!
Next, give me your first comment with your name and email
address
and tell me that if you were unemployed and could
have any job in the world. W
hat would that job be?
Extras for the AUTOGRAPHED COPY OF "FATAL ENCRYPTION"
+2 Each Tweet (as many times as you'd like) just link back
+3 Follow me @AprkAvePrincess on Twitter
+5 If you blog about it on your blog (or anywhere on the web)
That includes MySpace, FaceBook...
(just link back so I can add up the total of points at the end)
and the last thing you can do:
+10 If you add my button on your blog!
(or anyplace you'd like to share me...
let me know so you get your points)
**Got A Question? Well, don't be SHY!!**
Want to Preach to the Princess?
Just hit the "comment" button at the top and fill out the form!
I'll get back to you ASAP!
This amazing giveaway will run from NOW until Sept. 17th
(cut off time is MIDNIGHT EST - NO exceptions!)
BEST OF LUCK TO EVERYONE AND HAVE FUN!