Book: Summer of Two Wishes
By Julia London
Publisher: Pocket Star (Simon and Schuster)
Available in: Mass Market Paperback
Release Date: August 18, 2009
Pages: 432
Language: English
Buy the book at Amazon
My Royal Rating:

First and foremost, I'd like to make a public apology to both author Julia London and Sara Reidy of Pocket Star (a division of S&S) . I was sent this wonderful copy of "Summer of Two Wishes" by Sara for this tour and my post was supposed to be up first thing this morning. I wasn't feeling well enough to post last night and I forgot to make it an "automatic post" and therefore missed having it up on time. It's still the correct day, just a little later. So, to Ms. London and Sara, I apologize profusely! Sometimes illness can be cruel and really not care. We, as human beings, feel differently (and I am extremely thankful for that). With that said, on with the tour for "SUMMER OF TWO WISHES" by Julia London!
Synopsis:
Who's Wife Is She?
Macy Lockhart's life shattered in a moment with the news that her husband, Finn -- serving in the military overseas -- has been killed in the line of duty. Their ardent and devoted marriage is over, leaving Macy alone, empty, directionless. But while she tries to sustain herself with memories of Finn, the quiet, strong man who made her and their small Texas ranch the center of his life, it is wealthy Wyatt Clark who slowly brings joy back into her life. Her love for Wyatt may be less romantic than the breathless passion she'd once shared with Finn, but she vows to cherish him, and their marriage is happy and as solid as a rock. Until the day that Finn, miraculously spared from death, returns home to claim his bride....
How can a woman choose between the two men she loves? And how will she make the right choice -- for herself and everyone involved? In a deeply moving, passionate novel, New York Times bestselling author Julia London illuminates the questions hidden in a woman's heart.




My Thoughts:
Miracles can happen, and do...

Wow! I wish I could just leave it at that...that's all I kept thinking through the entire novel. But, if you know me, then you know I would never leave it at just "wow".... (In case you don't know, I'm a talker and not in a little way)!
So, here's the situation, to Macy Lockheart, there's no one in the world she loves more than her husband Finn. She lives for him, he's the very air she breathes and they have the *Perfect* marriage. Together, they live in Cedar Springs and run a horse ranch and this means not only the perfect marriage, but the perfect life to go with it. Macy and Finn couldn't be any happier than they are when they're together.
But when Finn enlists in the military, after Macy begging him not to do so, she soon finds herself alone and missing her husband greatly. Awaiting for his return, she's greeted at the door with his dog tags and sympathetic apologies. There was evidence that he was killed in Afghanistan. Suddenly her entire wold comes crashing down and Macy feels she no longer has much to live for. She's in a deep depression and it's going to take something or someone should I say, to bring her out.
Enter after Wyatt Clark - a strong, self-confident and very well off man. As he helps her regain her strength and life of promise, they fall in love and are soon exchanging vows. With her life back on track, and a new husband that can give her any thing, the unthinkable is about to happen.
After being married for only seven months and preparing for a charity function, Macy is about to get more shocking news. It seems that Finn is not dead, in fact, for the past three years, he has been held captive by the Taliban and just made his way back to the coalition troops after escaping! That's right, he's ALIVE, and after three years of grieving Macy can't believe what she's now found true. He one ... no make that FIRST true love is alive and she's elated ... but how to tell Wyatt? And who will she choose? How could she ever choose?
Author Julia London does a marvelous job with this love triangle. Each character has depth and gives meaning to the story. A heart-breaking and romantic tale that's not to be missed! You'll be turning pages until late in the evening following the lives of these three characters! Julia's prose is magical and beautifully written. So be sure to pick up "Summer of Two Wishes" and a big package of tissues as well!
Read an Excerpt - Here
About the Author:
Julia London
Here's where I usually insert the author's bio...but I found something much better on
Julia's site
...her "unofficial Bio" from her web site!
Okay, here is the real scoop on Julia London: the official bio looks nothing like who I think is the real me. The unofficial truth is that I was born and raised in rural west Texas. I was a fat baby and typical little girl with Barbies, bikes, and an overactive imagination. I know that I loved to make up stories from a time I can scarcely remember (because my mom has a story I wrote in the first grade, which featured me in an episode of Wagon Train), and I know that I always loved books.
I remember going to the library. It was in an old house and it was very cool inside and smelled like old books and all the children's books were on lower shelves for easy access by little hands. I read all the usual stuff: Nancy Drew, Little House on the Prairie, Pride and Prejudice, Little Women… Everything You Ever Wanted to Know about Sex but Were Afraid to Ask (by then I was fifteen or sixteen and was afraid to ask).
In my early teens, I began to dream of great adventure and hunky guys and filled notebooks with stories of a girl who looked and talked like me and was constantly caught up in adventure and peril. She always landed in the arms of hunky guys who happened to resemble a few of my favorite TV stars. Hey, I'm not ashamed to admit it: Starsky and Hutch, Alias Smith and Jones, and yes, even Keith Partridge.
I went to college, I got a job, and when I got a little older, I began to live the real adventures of my life. I traveled to far-flung places and tried things I never thought I'd try. I had good jobs with the federal government and eventually ended up working in the White House, and then later, I came back to Texas and worked as a public administrator until I could take politics no more.
That's when I decided to turn my penchant for making up stories into books, and I'll be damned if an agent and a publisher didn't want to publish my daydreams. I have been a lucky, lucky girl.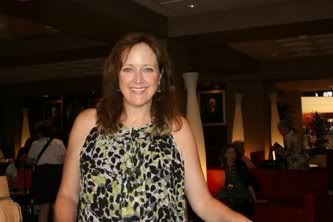 I look back at my life and mark the passage of time by standard measures: bad hair and bad style sense. Or, I can pinpoint where I was and what I was doing in my life by the sports I tried. Not all of them took, but I discovered I was best at tennis (back in the day), golf (except when it's too hot, and its always too hot in Texas) and wogging (sort of a half-walk, half-jog. Extremely ugly in appearance, but gets the job done), which I do only moderately well.
Along the way I fell in love with a few good dogs and a few good men, and found the ones I want to keep forever.
Sure, there have been those few occasions I might have drank too much and did some things I wish I hadn't, but overall, I have no regrets. I've never wanted for anything except the perfect purse (the search continues). I have been a lucky, lucky girl.
The unofficial truth is that I've had two successful careers. I've been blessed with a wonderful family and I've been lucky in love and work and play. I love my life, I love what I do. I love the people and animals that surround me and I am eager to see what the next half of my life brings.
Now that is a bio that looks like me.
I highly recommend this book to any true lover of a good romance novel. This one still has me thinking about the characters days later.
Thanks to Sara at Simon and Schuster, I'm able to giveaway a copy of "Summer of Two Wishes" to one VERY lucky reader. Interested? Ok! Here's what to do.
Rules:
You must reside in either the U.S. or Canada only!
You must be a reader of mine and follow my blog. So, if you haven't done so, just *click* that little follow button to the right and this will give you update on all contests and winners!
How do you win?
First entry is your Name and email address ... if you throw in the name of your very first love I'll give you +2
Separate posts or same...you choose!
Follow me on Twitter +5
Tweet this and Link Back +3 (per tweet)
Blog about this and link back (anywhere) + 5
Share my button on your blog with a link back +10
Contest will close on September 9th and WINNER announced September10th!
GOOD LUCK and HAVE FUN!
I really enjoyed this book and being part of the tour was amazing!
KISSES ~ XXX