Since I absolutely fell in love with "113 Things to do by 13" written by Brittany and Terri Macleod, I can't even describe just how excited I am to have Terri Macleod here for an interview! At the end of the interview, THREE of my readers will have the chance to WIN a copy of their very own courtesy of Brittany & Terri!
Terri MacLeod has been a celebrity journalist for over 15 years. Presently, she is a senior producer at the top rated entertainment show Access Hollywood. On a daily basis, Ms. MacLeod is at the epicenter of the celebrity loop – writing, reporting, and covering everything celebrity. She has interviewed every major A-list star, covered hundreds of red carpet events, has been backstage on photo shoots, fashion shows – you name it! Ms. MacLeod also writes an eco-celebrity column for the green web-site Tree-hugger. She is a free-lance writer on celebrity/lifestyle issues for numerous publications, including a stint as a longtime contributing editor at In Touch Weekly, where she originated and wrote weekly column/items on beauty, fashion, and lifestyle.

Besides her work in the celebrity world, Ms. MacLeod's enjoys working with and writing about teenagers. She loves to help young girls develop a can-do attitude. Ms. MacLeod's dream is to run workshops for young teens and help girls transition into their teens with inspiration, confidence, and positive self-esteem. Ms. MacLeod is a single mother to a spunky 14-year old city kid, Brittany. She grew-up in Grosse Pointe, Michigan and graduated from Denison University.
What was the inspiration behind 113 Things to do by 13?
My daughter, Brittany, put together a list of 100 things she wanted to do before she became a teenager. I took a look at her wish list and then remembered all the crazy drama I went through at "13." It's such a tough age! So, I thought a great gift to my daughter and tweens everywhere would be to write a girl power guide to surviving your middle school years. I didn't want it to be preachy, but written with a legit tween attitude and be packed with lots of tips and can-do incentive. I want girls to be happy, dream big, and have healthy self-esteem. Hopefully, "113 Things To Do By 13" will inspire young girls to think outside the box, treat each other well and help make a positive transition into their teens years.
Terri, do you have a target audience in mind for this book?
There's no age limit to enjoying "113 Things To Do By 13." I hope there's something in it for everyone. But, the book is intended for young girls between 8 – 14.
What would you like your readers to take away from the book after reading it?
The message of "113 Things To Do By 13" is simple: Be inspired. Be confident. Be you! I hope anyone who reads it will be motivated to try something new or pursue an old passion with gusto! At 13, everything seem so dramatic – mean girls are on the attack, your parents are bugging, homework is out of control, and your body is changing rapidly. –So, I hope "113 Things" will be a fun read and help young girls realize there's lots of time stress to the big stuff – just enjoy the moment. Plus, all the crazy school drama will end and today's mean girls really will NOT matter tomorrow.
What are your favorite things to do listed in the book?
#14 Discover your talent and work on it! As mentioned previously in this interview, I think it's really important for young girls to have interests/passions outside of school. Developing a talent helps build self-esteem and take the focus off 'fitting in and trying to be in the popular clique.'

#99 Put together a favorite go-to-outfit. Every girl's has to have at least one outfit which makes them feel fabulous! Develop your individual style – it's an excellent way to let the world know who you are!

#33 Make a friend outside your neighborhood. Try not to judge others. Keep an open mind and be willing to learn and listen to everyone who comes into your life.

#17 Play A Prank On A Friend: Everybody has to know a good prank (or two). Pranks are a sign of affection and meant to prompt a good laugh. Healthy pranks don't hurt feelings.
Which parts of the book mean the most to you and why?
I have to say the section on mean girls. I had my share of mean girls in middle school. Unfortunately, I know what it's like to be excluded! My best friend turned on me in 8th grade and went on to wage a war of 'hate' against me. She actually had other girls sign a letter stating 'they hate Terri too.' I will never forget how lonely and sad that experience made me. I think it scarred me in many ways and I really don't want other young girls to suffer the same. Please, if you are being bullied confide in someone – don't be ashamed and suffer in silence.
How did you like working on this project with your daughter?
I loved working with my daughter – an exciting journey we took together. Brittany served as my editor. I wrote the majority of text and she would go over it and make sure the tone was tween authentic. We wanted to keep it fun and not too preachy.
Will we see a sequel to "113 Things to do by 13"?
I would love to write another book. Perhaps, "116 Things To Do By 16." Also, I am interested in reaching out to real young girls and find out what's happening in their lives. So, I want to get a blog going on "113 Things To Do By 13's"
facebook
page. You can do that by going -
HERE
!
I have to admit that MANY of my readers are AVID readers. What about both you and Brittany?
Both my daughter and I are huge readers. Brittany loves the Twilight series and Percy Jackson mythology adventure books. I am a news junkie. I read magazines, newspapers, blog sites, and books. I would much rather curl up with a good book at night than turn on the TV.
Since you both like to read, who are some of your favorite authors and/or books?
I hate to single out favorites! I really don't have one life-changing book. I enjoy reading everything. I especially like 'coming of age' stories and tales of strong women who against all odds rise up to life's challenges.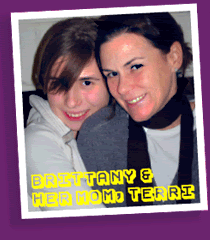 As a professional writer, I've always wondered just how you handle writer's block. Any tips?
That's a tough one? I used to pace the house and get all crazy when I got writer's block. But, I've learned a good walk or a yoga class can do the trick. Remove yourself from the situation. Nothing positive comes out of trying to force yourself to be creative – take a moment and breathe – and your good ideas will flow again.
What advice do you have to give for all of my readers that are aspiring writers themselves?
Just write. Don't worry about grammar or churning out the perfect story, just get your ideas down on the paper. Then, go back and edit. It's important to finish what you started –if you've got an awesome idea – stay with it! Also, keeping a journal is excellent writing practice. Try to write in your journal at least once a day. It's a great way to express your feelings and get in the habit of writing something other than a school paper.
Thank you SO much for being here at Royal Reviews by Park-Avenue Princess, I really can't say enough wonderful things about your book! It's been a pleasure!
Now, are YOU ready to win a copy of "
113 Things to do by 13
"? Well, I just happen to have THREE copies available to give away! You want to know how?
Rules:
You MUST be a resident of the U.S. or Canada
You MUST follow my blog (so click the little button)
Also, I have to be able to get your mailing address (No P.O. Boxes Please)
Giveaway Points:
Your first comment should include your name and email!

+1 For each of the groups you friend/follow me on the left
+1 For entering another contest I have going on right now!
+3 For Tweeting this Giveaway (link back)
+5 For following me on Twitter
+5 For blogging about this Giveaway (sidebar is fine just link back)
+10 For displaying my button on your blog
+10 For signing up as a FAN of 113 THINGS on
FACEBOOK
!
**PLEASE NOTE: Giveaway will run until September 4th Midnight (EST) and The THREE WINNERS will be posted on this blog on September 5th! I will also notify the winners by email. You'll have 48 hours to get back to me! Thank You!**

Good Luck and Live Life to the Fullest!!
Kisses XXX