Damas, Dramas and Ana Ruiz: A Quinceañera Club Novel
By: Belinda Acosta
Publisher: Grand Central Publishing
Pages: 336 Pages
Available: August 11, 2009
My Rating: 4.5 Tiaras!
Synopsis:
All Ana Ruiz wanted was to have a traditional
quinceañera
for her daughter, Carmen. She wanted a nice way to mark this milestone year in her daughter's life. But Carmen was not interested in celebrating. Hurt and bitter over her father Esteban's departure, she blamed Ana for destroying their happy family, as did everyone else. A good man is hard to find, especially at your age Ana was told. Why not forgive his one indiscretion? Despite everything, Ana didn't want to tarnish Carmen's childlike devotion to her beloved father. But Ana knows that growing up sometimes means facing hard truths. In the end, Ana discovers that if she's going to teach Carmen anything about what it means to be a woman, it will take more than simply a fancy party to do it...
"Belinda Acosta's
Damas, Dramas, and Ana Ruiz
delivers all its title promises and more: it's a book about damas of all ages, from teenage girls to the struggling mothers of those teenage girls; it's packed with drama so you don't want to stop reading; it's a novel that deeply and honestly tells the story of Ana Ruiz, her own coming of age as a woman and as a mother. Belinda Acosta is up to all of the challenges of such a rich panorama of characters and events. She's sassy, she's smart, she makes it look easy! But it takes a lot of hard work and a pile of talent to write such an engaging, touching book. A wonderful quinceañera of a novel!" --- Julia Alvarez, author of
Once Upon a Quinceañera: Coming of Age in the USA and Return to Sender"
Lively and perceptive... Acosta empathically captures the innermost feelings of her characters."--- Booklist
My thoughts:
What's a
quinceañera
? Before opening the book, that's something I needed to know! Here's what I found; It's a celebration or coming-of-age party held on a girl's fifteenth birthday that typically begins with a religious ceremony. This ceremony is usually a good way for the family to bond with the girl turning 15 (especially the mother).
When I first picked up
Damas, Dramas and Ana Ruiz
, I expected a humorous beach-type read with little sustenance. But, to my delight, I couldn't have been more wrong! Belinda Acosta does a wonderful job weaving a story of a heart-broken daughter who misses her father's love and a mother that will do anything to gain her daughter's heart back! Belinda uses a unique mixture of humor and narrative point of view to get the messages across to her readers. Which worked for me one hundred percent!
Carmen can only see all the goodness in her father and furthermore, she blames her fully for their immediate separation! A daddy's girl through-and-through she has only starry-eyed notions of just what type of a man he is. Her mother and father, Ana and Esteban Ruiz cannot even hold a civilized conversation, never mind connecting to try and figure out if and how the marriage is going to work! And while Carmen refuses to talk to her mother, Ana is determined to throw Carmen a beautiful Quinceañera with the hopes of bringing them closer together and strengthening their bond.
Most of the story is centered around Ana and her need to regain her own self-confidence along with her daughters love. Ana's Son Diego and her niece Bianca both are there to help with the planning. While Carmen shows her childish, immature and demanding self in this story, her brother is just the opposite. Diego is caring and compassionate and tries to help his mother with whatever she needs. Bianca's got her own mother/daughter issues. Her mother is mentally ill and therefore can't be there for her while she's growing up. Each one of these character's were so well developed that I felt as though I got to know each and every one of them. I cared about what happened to them. I laughed with them and I felt their pain. To me, that's one of the main things that makes a story a success.
I believe this book would make a fantastic book club read (and you can even find a RGG
here
)! There is so many aspects of this story you could discuss. Also, there are the different cultural aspects of the book that helped me learn a whole lot about a subject I didn't know much about to begin with. I was so angry at times with Ana for not telling her daughter the truth about her father. But, as a mother myself, I could see the struggle she had with trying to protect her daughter from all that wasn't "perfect" in the family. There are already so many different types of things that teen girls have to worry about while entering womanhood. Why add more stress?
Belinda has written a coming of age story and the issues that affect so many of us and not just Spanish families. You could feel the stress in the written word and just how strong the bond of love is between the Ruiz family. This story will at times tug at your heart-strings and at other times laugh out loud! I highly recommend this book and note Ms. Acosta an author to watch!
About the author:
Belinda Acosta
has written and published plays, short stories, and essays. As a journalist, her work has appeared in the Austin American-Statesman, The Austin Chronicle, the San Antonio Express-News, The San Antonio Current, and AlterNet. Her short story Tortilla Dough appeared in Saguaro, a publication of the University of Arizona in 1992. In 1993, she produced, directed and performed in a multi-media dance-theater performance of La Llorona. National exposure came in 1995 when she read her personal essay Gran Baile, on Latino USA - the Radio Journal of News and Culture, carried on National Public Radio.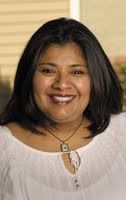 Acosta received a Master of Fine Arts in Writing from The University of Texas in 1997. She lives in Austin, Texas and is the TV and media columnist for The Austin Chronicle.
You can learn more about Belinda Acosta by visiting her
blog
! I also please sign up for the Damas, Dramas and Ana Ruiz Facebook Fan Page -
Here
!
Want updates on
Damas and Belinda
? Follow here on
Twitter
!
for letting me participate in this Blog Tour!
Want to WIN a copy for yourself? Of course you do!
You must be a resident of the U.S. or Canada only
and have a valid address (NO P.O. Boxes Please)
If you qualify above, here's how you win!
For your entry, tell me the best and/or worst gift you've ever gotten for your birthday
please include your name and email address so I can reach the winner.

Extra Entries? You KNOW IT!
You MUST be a follower of my blog
Each entry must be a separate comment with a link (if needed)
+2 if you follow me on Twitter
+3 if you tweet about this giveaway
+5 if you Blog about this giveaway
+10 if you put my button on my blog (or already have it there) and link back!
This contest will run until August 30th (Midnight EST) and I will draw a winner on the 31st!
Good Luck and Have Fun!!
Can't wait to WIN? Buy the book -
HERE
!
Kisses ~ XXX