Seduce Me by Robyn DeHart
Fielding Grey is the second son of the Marquess of Eldon and fortune hunter by night. He's on a mission for the Legend Hunters--a group of wealthy, titled, and heart-breakingly gorgeous men, each of whom are after the find of the century--he has his eyes set on obtaining the illustrious Pandora's Box. But before he finds it, he encounters an equally alluring treasure--the woman bold enough to look inside.
Esme Worthington can't resist taking the tiniest peek inside when fate drops the real Pandora's Box in her lap. Thus, she unleashes one of Pandora's irresistible curses: the curse of lust. Now, both Esme and Fielding must deal with this passionate curse--or blessing?--before unknown implications of Pandora's Box overpower them both.
There is a gentleman's club near St. James St., a luxurious one with all the accoutrements one would expect from such a fine establishment; fine liquors, exotic cigars, gaming and a comfortable chair in which to read the daily papers. Solomon's is by invitation only and those invitations are not extended without exceedingly careful consideration. Because in this club is a secret room where secret meetings occur. And in these secret meetings some of London's finest gentlemen gather to discuss their passions; their obsessions.
Some are scholars, some collectors, some treasure-hunters, but each of them are after the find of the century. Meet the Legend Hunters...
(Legend Hunters Series Book One)
Seduce Me By Robyn DeHart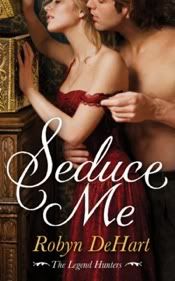 Fielding Grey is a treasure seeker with a taste for danger and experienced women. His latest mission: wrest Pandora's fabled box from a notorious criminal mastermind. Not in the job description: save an innocent damsel in distress.

A bookish miss, Esme Worthington has favored dusty tomes over society balls, and thrilling tales over flirtations. But when two scoundrels break into her home, she is thrust into a real-life adventure. Pursued and suddenly possessing the forbidden box, Esme can't resist peeking inside. Under the spell of Pandora's seductive curse, she's soon offering herself to Fielding – body and soul. With her reluctant rescuer determined to resist her charms, can the two outwit an enemy who will stop at nothing to seize their precious prize?
(Chapter 1 From Author's Site)
Ahh, Temptation...
One Wednesday night on a sleepy side of London, Esme Worthington yawned a most unladylike yawn, then sniffled her nose before looking back at the text on her lap. It was long past a reasonable time for bed yet here she sat. Sometime after midnight she'd abandoned the hard chairs of her study for the more comfortable sofa in the parlor next door. But the plush floral cushions only assisted by lulling her to sleep rather than encouraging her to continue her research. She readjusted herself and blinked several times, trying to focus on the book before her.
She read the last sentence once again trying to absorb the words. Some of these so-called scholars simply had no notion what they were suggesting. Precisely how was an artifact from ancient Greece supposed to have ended up in the jungles of South America? Preposterous. There was no possible way that Pandora's box had ended up on a Spanish explorer's ship.
Another yawn.
Her great black tom lifted his sleepy head from where he slept curled warmly over her thighs. His gold eyes were nothing more than slits, then he yawned. "Horace, I do believe I shall retire for the evening. I don't seem to be getting any work done at all." She scratched him behind his ears and he rewarded her with a rhythmic purr. Placing the heavy book on the table next to her, she stood. "You guard the books and tomorrow morning I shall pour you some warm milk."
Esme doused the lamp, then stepped into the hallway. Horace followed her and she scooped him into her arms. "Want to warm my feet tonight, do you?"
She stopped. Something scraped against the wood floor in the very next room. It was far too late for Aunt Thea to be awake. Perhaps it was one of the servants, though they were normally early to bed as well. She padded over to the room and nudged the door open.
Want More?
About the Author:
I'm one of those writers who always knew that she wanted to be a writer. It took me a while, however, to figure out precisely what I wanted to write. Reading Kathleen Woodiwiss' "A Rose in Winter" sealed the deal for me and I've been reading and writing romance ever since. I should have known I was destined for this when my Barbies insisted on hosting elaborate masquerade parties, complete with stolen kisses in the moonlight.
I'm the youngest of three children, so of course I'm the favorite. I was raised in central Texas, in the beautiful Hill Country, right smack-dab between Austin and San Antonio. My parents were high school sweethearts and married a week after my mother graduated – they both needed their parents' permission to marry since they were so young. So I blame them and their amazing marriage for the fact that I'm a hopeless romantic.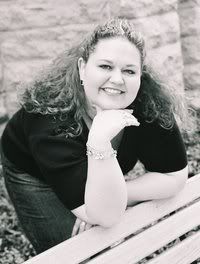 Somewhere along the line, I graduated from college with a degree in Sociology, only after completing an internship with none other than award-winning author, Pamela Morsi. It was one of the coolest experiences of my life and I learned more about the writing business than I could have hoped.
After college I worked a myriad of jobs: Computer Software Trainer, Recruiter, Administrative Assistant. But no matter what my day job, I come home to my real job and click, click, click away on my computer and get lost in my imaginary world where justice always prevails and the girl always gets her guy! It's the coolest job in the world.
I'm married to the most amazingly supportive man who makes me laugh every day. He's so proud of my career, and loves to tell people, "My wife is a romance novelist." We live in the foothills of the Smoky Mountains, where my husband is a university professor.
We have two very spoiled cats who are of no help at all when it comes to my writing, although they sometimes nap in the same room where I sit diligently working.
Do You Want To Be SEDUCED?
I Have FIVE Copies To GIVEAWAY
Courtesy of ANNA and HACHETTE BOOK GROUP!
Rules:
You MUST Be A Resident of The U.S. or Canada Only
No P.O. Boxes (Please)
How do you win?
Leave A Comment With Your Name & Email Address
+1 Follow My Blog (on Blogger ~ hit the little "Follow Button")
+1 Subscribe To My Feed Via Email
+2 Follow Me On TWITTER (Please Leave Your Name)
+3 If You Tweet About This Giveaway (Leave Link)
+5 If you Blog About This Giveaway (Please Link Back)
*IMPORTANT* Each Must Be A Separate Comment
ALL Entries MUST Be In By August 30th (Midnight EST)
WINNERS Will Be Drawn On August 31st!

KISSES ~ XXX